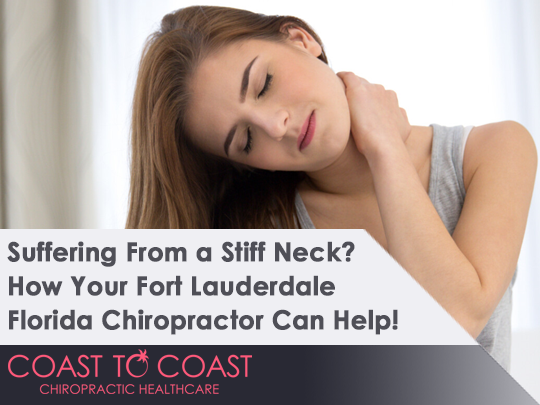 Do you wake up in the morning with a stiff and painful neck? Does the pain and discomfort persist throughout the day, making it difficult to go about your daily activities? If so, you're not alone.
Neck pain is a common problem that affects millions of Americans each year.
Fortunately, chiropractors know exactly how to treat a stiff neck. In this article, we'll discuss how chiropractic care can help alleviate your symptoms and provide you with the relief you need to get back to your daily routine.
If you're suffering from a stiff neck, keep reading to learn more about how a chiropractor in Fort Lauderdale, FL, can help.
Understanding Chiropractic Care
Chiropractic care is an approach to healthcare that focuses on the diagnosis and treatment of musculoskeletal conditions. Chiropractors use a variety of non-invasive techniques to manipulate and adjust the spine. They also work on joints and soft tissues to improve mobility, reduce pain, and promote overall wellness.
During a typical treatment session, chiropractors will assess your spine and joints. They'll also have a quick conversation with you about any neck or back problems that you're having. Then they will create a tailored treatment plan and suggest one of a number of different adjustments that can help relieve you.
Chiropractors need to be qualified and licensed to operate. Chiropractic procedures are a safe and regulated alternative to more medication-based approaches to treating spinal problems.
Common issues that chiropractic care can help are:
Stiff neck
Lower back pain
Spinal misalignments
Chronic back pain can cause significant issues with mobility and carrying out daily tasks. Certain problems like bad posture can also lead to long-term health problems that make life difficult.
Getting chiropractic care can help head off these problems before they begin to have an impact on your movement or cause you too much pain.
Common Causes of a Stiff Neck
If you've ever gone to bed feeling fine and woken up with a stiff neck, you'll know how uncomfortable it can be. There are many potential causes for a stiff neck. You should talk through these with your chiropractor so that you can establish the best course of treatment.
Let's take a look at some of the most common causes.
Poor Posture
Poor posture is a common cause of a stiff neck. This is especially true for people who sit at a desk for long periods of time. Poor posture puts stress on the neck muscles and can cause them to become stiff and sore.
Bad posture is something that many people don't take seriously, but it can lead to further problems beyond a stiff neck. If you have bad posture, it's important to get it treated early.
Injuries
Injuries to the neck, such as whiplash from a car accident, can cause stiffness and pain. A sudden jolt to the neck can cause the muscles and ligaments to stretch and tear, leading to stiffness and discomfort.
Any neck injuries should be seen by a medical professional right away. Most cases of neck injuries are relatively minor, like whiplash, but some can be more serious and lead to dangerous complications.
Muscle Strain
Overuse or sudden movements of the neck muscles can cause strain and stiffness. This can occur from activities such as lifting heavy objects, playing sports, or even sleeping in an awkward position.
If you know that certain activities tend to leave you with a sore neck, then you should mention this to your chiropractor. They'll be able to treat the initial stiffness and then give you advice on how to better care for your muscles the next time you're doing that activity.
Herniated Disc
A herniated disc in the neck can put pressure on the nerves and cause stiffness and pain. This occurs when the soft, jelly-like center of a spinal disc protrudes through a tear in the outer layer, putting pressure on the nerves in the neck.
How to Treat a Stiff Neck: Chiropractic Care Can Help
Chiropractic care can help alleviate the pain of a stiff neck in many ways. Not only will it help you with the immediate symptoms, but it will also better protect you from any recurring or chronic neck issues.
The first way chiropractic help can care is by making spinal adjustments. These adjustments are performed to realign the vertebrae in your neck and help ease the more painful symptoms. The basic principle is to apply pressure on certain areas to restore their usual function.
Chiropractors can also focus on treating the soft tissue through a mixture of treatments and massage. This can help to reduce muscle tension and help the muscles relax and loosen up.
After the initial hands-on treatment, your chiropractor will begin to focus on aftercare and give you advice to prevent further episodes of neck stiffness. This can include giving you therapeutic exercises to do at home to alleviate pain and stiffness.
Finally, chiropractors can offer advice on a range of lifestyle changes that you can make to keep spinal problems at bay. This could include tips to reduce stress, certain activities to avoid, or general advice on how to maintain good posture.
Don't Suffer With a Stiff Neck: Get Help Today
If you commonly suffer from back and neck problems, you don't need to suffer through it. Your local Fort Lauderdale chiropractor knows exactly how to treat a stiff neck. They can use their knowledge to perform adjustments and treatments that are going to alleviate your pain and help you move better.
Luckily for you, there is such a chiropractor in your local area. Speak to us today to see how we can help you with your problem. Our team of experienced chiropractors would be delighted to help you move past your neck pain.